Info sur les cours
Support de cours
A l'issue de votre formation, vous obtiendrez une certification ThetaHealing®. Vous recevrez toutes les informations pour signer la licence avec le ThetaHealing® Institute of Knowledge (THInK). Le nom sous lequel vous vous inscrivez sera celui imprimé sur votre certificat.
En ligne
La plupart des cours comprennent un livre qu'il vous incombe d'acquérir avant le cours; Vérifiez ICI si le cours auquel vous vous inscrivez nécessite un livre, un manuel ou les deux.
Le lien Zoom et les manuels de cours vous seront envoyés un jour avant le début du cours. Pour les cours en ligne, le manuel en pdf n'est pas imprimable (pour des raisons de copyright et conformément aux instructions de THInK).
Vous pouvez commander une version imprimée de votre manuel ou livre auprès du siège social en Suisse ou en Amérique ou auprès de la boutique Amazon de votre pays.
En personne
Pour les cours en présentiel, les livres et les manuels imprimés vous seront fournis le premier jour. Vous pouvez demander votre livre à l'avance afin d'être mieux préparé.
Pour les cours autres que le cours ADN base, assurez-vous d'avoir suivi le cours pré-requis au préalable: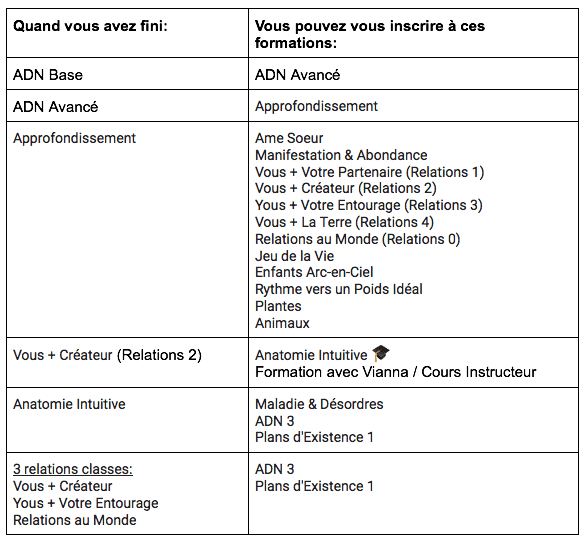 Vous pouvez demander à être informé dès qu'un cours qui vous intéresse est offert (Catalogue des cours).
Faites-nous savoir si vous ne souhaitez pas être pris en photo.

PRIVATE SESSIONS
Transform your health, wealth, relationships, and success by understanding why you think
what you think.
APPOINTMENT

LEARN HOW TO THETA
Everyone is capable
of self-healing. Explore consciousness, and learn to guide others to realize their potential.
CLASSES

PLAN YOUR TRAINING
Let us know about your goals and find classes that work for you. Get clarity on the next step so you can move forward.

REGISTER