Disease and Disorder (online) – Registration
Disease and Disorder (online)
Thank you so much for your interest in our ThetaHealing® Training. The prerequisite certification to sign up is Intuitive Anatomy. Please email or whatsapp us if you need assistance.
Week 1: Sun Aug 20 – Thu Aug 24
Week 2: Sun Aug 27 – Thu Aug 31
Time: 9am – 3:30pm EST
Let us know if you prefer to study in person: we might choose to teach simultaneously with a second Disease and Disorder certified instructor if we have at least three in-person students.
Step 1 – Make your Payment
To secure your spot in the class today, you can choose to make the Full Payment, or pay only the Registration Deposit (non-refundable). Your balance (Seminar Amount) will be due before the first day of the course. You may use an Alternate Payment Method.
DISEASE AND DISORDER is a 10-days seminar: $1660.00
– Registration Fee (online): $260.00
– Seminar Amount: $1400.00
Step 2 – Sign your License Agreement
In order to move on to the next training, and if you choose to offer services using the ThetaHealing® technique, you must sign your license agreement with THInK. Login to your profile with the email you used to register for the previous course.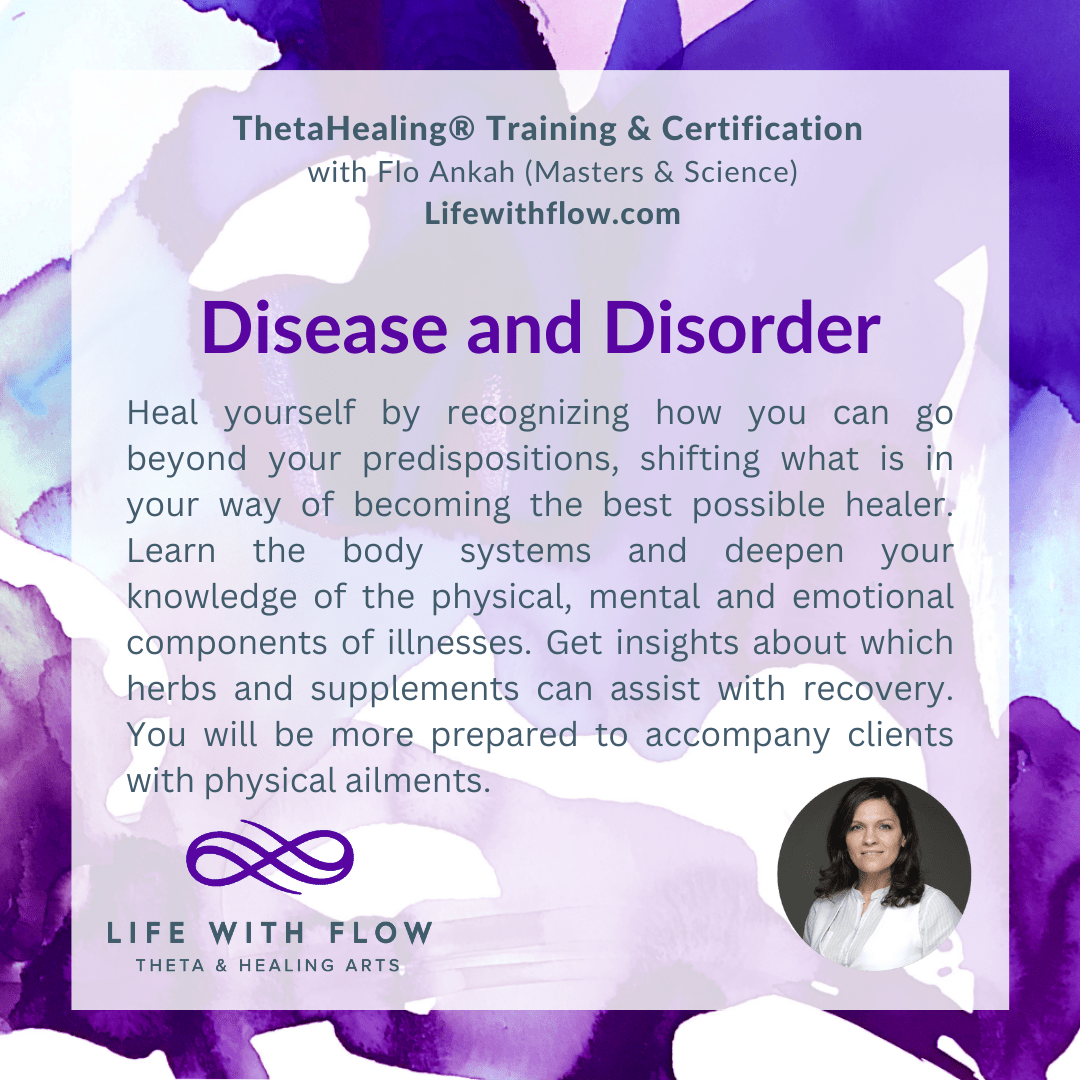 Day 1: Microbes, Heavy Metals
Day 2: Cancer
Day 3: Cancer
Day 4: Diabetes
Day 5: Heart & Circulatory System
Day 6: Skeletal & Endocrine Systems, Muscles, Eyes
Day 7: Digestive System, Liver, Drug Abuse
Day 8: Respiration, Skin, Lymph System
Day 9: Reproductive/Sexual System
Day 10: The Brain, Nervous System
We look forward to working with you!
Step 3 – Course Material
For online classes with us, you are responsible for acquiring the ThetaHealing Book before class. Restrictions apply for shipping in different countries and you are more familiar with what works best for you! You will be given the information for a quality Anatomy & Pathology Body Atlas that you can reference during your learning.
The Zoom link and class manuals will be sent to you one day before the start of class. For this course, you will need two devices on Zoom to participate (or whatsapp) so you can experience the guided meditations while in the break rooms.
As per THInK instructions and for trademark purposes, the pdf manual provided is not printable for any online courses. The manual is smaller and you do not need to get a printed version, the main reference is the Disease and Disorder book. Please message us if you need us to send you the book or a printed version of the manual, that will be charged in addition to the training cost.
Keep in Mind
Please review the terms of use so you are comfortable with the guidelines for your training. The payment structure for ThetaHealing courses includes a non-refundable deposit (Registration Fee) and the class fee that is the same for online and in-person courses (Seminar Amount). This payment structure is helpful in case a different host is organizing the training. There is a minimum class fee for each ThetaHealing® course globally to ensure the value of your training and certification.